Personal Appearance
Facial hair is neatly trimmed, but limited to a mustache and goatee.
No visible body piercings, outside the uniform, including ears, lip, nose, tongue, and gauges.
Earrings are prohibited on all personnel.
Jewelry is limited to three items, e.g. two rings and a watch or a ring, watch, and bracelet.
Hair must be kept to a mid-length for males and females are not permitted to large accessories. Shaved in designs/words/logos and mohawks are not authorized.
Dyed and tinted hair must be within natural occurring color range. Red (dyed or tinted), pink, purple, green and similar colors are not authorized.
Nail polish must be clear, no color or glitter. Fingernails must not exceed one fourth inch above fingertip.
Neck chains are strongly discouraged due to safety reasons, but those who must wear them are required to tuck under uniform and are limited to one.
Personal hygiene issues are addressed with one warning and followed by removal from the roster, if the problem persists.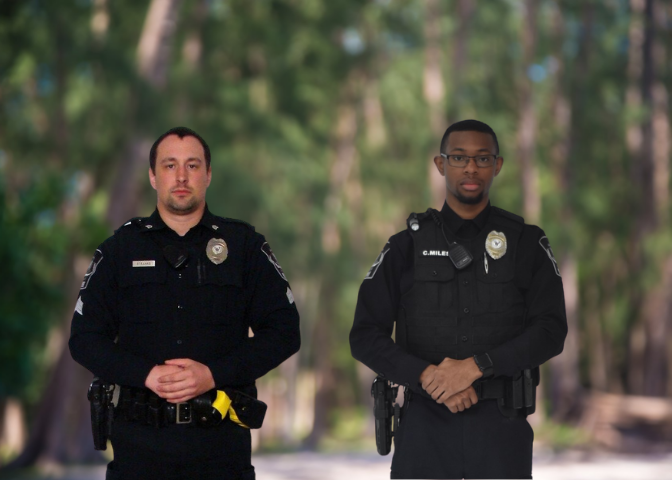 Uniform, Duty Gear, and Equipment Standards (High Profile/Uniform)

Uniform

Short sleeve navy blue uniform shirts with Valentis patches (Permissible during temperatures above 70°F).

Long sleeve navy blue uniform shirts with Valentis patches (Permissible during temperatures below 70°F)

Issued all-weather jacket with Valentis patches (Permissible during appropriate climate conditions)

Under short sleeve uniform shirt to be white or navy blue

Navy blue uniform pants

One Valentis badge worn on the left chest

One name tag worn on the right chest

Black pants belt

Black boot or work shoe (athletic and dress shoes are prohibited)

Duty Pistol

Armed personnel will possess a semi-automatic pistol with minimum 4" barrel length and no modifications from factory condition secured in a Level II or higher duty holster (Blackhawk Serpa Holsters are not authorized) and a minimum of two magazines will be carried.

Other Gear

Uniformed armed and unarmed personnel will possess a flashlight and belt holder; one timepiece; standard 2.5" duty belt secured to an inner belt with belt keepers and/or Velcro. All items on the duty belt will be made of the same material.

OC Pepper Spray

One (1) 3 ounce or 4 ounce canister of OC Pepper Spray and appropriate holder will be carried while on duty by uniformed armed personnel.

Handcuffs

A minimum of two sets of handcuffs with key in a case will be carried while on duty by armed personnel.

Baton

Authorized and qualified armed personnel may elect to possess one expandable baton and appropriate holder

Electronic Control Weapon

Authorized and qualified armed personnel may elect to possess an Axon Taser in appropriate holster

Personal Protective Equipment

Personnel may elect to wear soft body armor